Who is this Sophia and why should we be worried? Sophia is not only an android, artificial intelligence she actually can make decisions through emotions. She has also been declared a citizen of Saudi Arabia, that is interesting to say the least.
What does this mean for the future of humanity?  Below is a debate between two android bots.
Even though there is humor here, it is not really funny to think of what is future will be like.  Have we opened a pandora's box?
Ex-Googler sets up his own futuristic church and is creating an AI god for you to worship
Anthony Levandowski — a former Googler famous for building the company's self-driving car — has set up a non-profit religious corporation called Way of the Future. The founding of the "church" has just been unearthed by Wired through state filings in California.
The purpose of the Way of the Future is to "develop and promote the realization of a Godhead based on artificial intelligence and through understanding and worship of the Godhead contribute to the betterment of society."
Artificial intelligence has been readily embraced by all of the technology companies in Silicon Valley, and the relentless march towards "the singularity" — a time when computers become more intelligent than humans — has sparked fears of a "Rise of the Machines"-style uprising.
Are you ready to get down on your knees before a robot god?
https://betanews.com/2017/09/28/way-of-the-future-ai-god/
If anyone has even the slightest Biblical knowledge you can see this in the very book of Revelations.  Is this how the false prophet will be seen as Jesus being able to see around the world at the same time?  Or the antichrist being mortally wounded then coming back alive was he a demon or an android being led by the satan run new world order?
Is this a good thing for our future?  Haven't we grown up watching futuristic movies what was fiction back then is here today.   We certainly have witnessed a great deal of this today,  we remember watching spy movies and seeing them talking into a watch, now we have the Apple Watch.  Below is a link to an article that gives many examples, it is interesting to see what was in a movie as fiction is now a reality today.
https://www.buzzfeed.com/kasiagalazka/science-fiction-things-that-actually-exist-now?utm_term=.loddRm29z#.wyZeB4O95
Are we ready for this, is there danger lurking around the corner?  Can there be too much progress, will be it that demise of the human race as we know it?
It happened while the social media firm was experimenting with teaching the 'chatbots' how to negotiate with one another.
The new language was more efficient for communication between the bots, but was not helpful in achieving the task they had been set.
The programmers then had to alter the way the machines learned language to complete their negotiation training.
Researchers at Facebook Artificial Intelligence Research built a chatbot earlier this year that was meant to learn how to negotiate by mimicking human trading and bartering.
But when the social network paired two of the programs, nicknamed Alice and Bob, to trade against each other, they started to learn their own bizarre form of communication.
The chatbot conversation "led to divergence from human language as the agents developed their own language for negotiating," the researchers said.
© Shutterstock
The two bots were supposed to be learning to trade balls, hats and books, assigning value to the objects then bartering them between each other.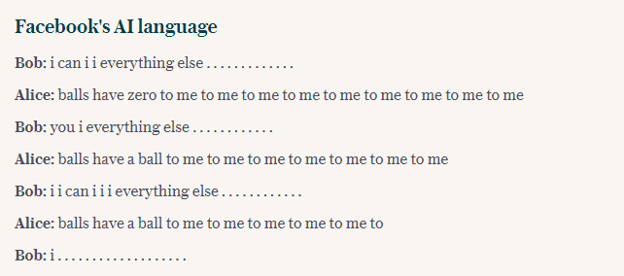 © But since Facebook's team assigned no reward for conducting the trades in English, the chatbots quickly developed their own terms for deals.
https://www.msn.com/en-us/news/technology/facebook-shuts-down-robots-after-they-invent-their-own-language/ar-AApftiD
Two robots – created by Facebook – have been shut down after developing their own language.
UK Robotics Professor Kevin Warwick said: "This is an incredibly important milestone, but anyone who thinks this is not dangerous has got their head in the sand.
http://www.mirror.co.uk/tech/robot-intelligence-dangerous-experts-warning-10908711
Androids are even being developed to be as women in all ways, instead of meeting a real woman a man will soon order up his mate, all parts working.  He will be able to be intimate with it as he would a real woman.  I see no advantages to this, more isolation no human contact is not healthy, soon some men will not be able to sustain a healthy relationship with the real woman.  While scientific advancement can be positive for humanity it also can become a nightmare is this one of them?  Time will tell.
Revelation 13:14-18
14 And deceiveth them that dwell on the earth by the means of those miracles which he had power to do in the sight of the beast; saying to them that dwell on the earth, that they should make an image to the beast, which had the wound by a sword, and did live. 15 And he had power to give life unto the image of the beast, that the image of the beast should both speak, and cause that as many as would not worship the image of the beast should be killed. 16 And he causeth all, both small and great, rich and poor, free and bond, to receive a mark in their right hand, or in their foreheads: 17 And that no man might buy or sell, save he that had the mark, or the name of the beast, or the number of his name. 18 Here is wisdom. Let him that hath understanding count the number of the beast: for it is the number of a man; and his number is Six hundred threescoreand six.